Linuxtag 2008
Linuxtag 2008 is over. Like last year's Linuxtag, it was a very nice event. We had a lot of visitors, answered a lot more questions and sold many t-shirts, posters and stickers at our eee-pc *cough* Debian booth. It was also very nice to meet some other people from Debian – one of the rare moments in life where I can feel really young again… sorry guys :P
Of course there were many interesting talks and booths from other projects at this year's Linuxtag. After Nico's and my yearly Linuxtag raid, I had like a dozen different ball pens, a t-shirt, a handful of cookies, and many many gummy bears.
Unlike last year, this year we had no Debian Day – but guess who showed up at our booth yesterday: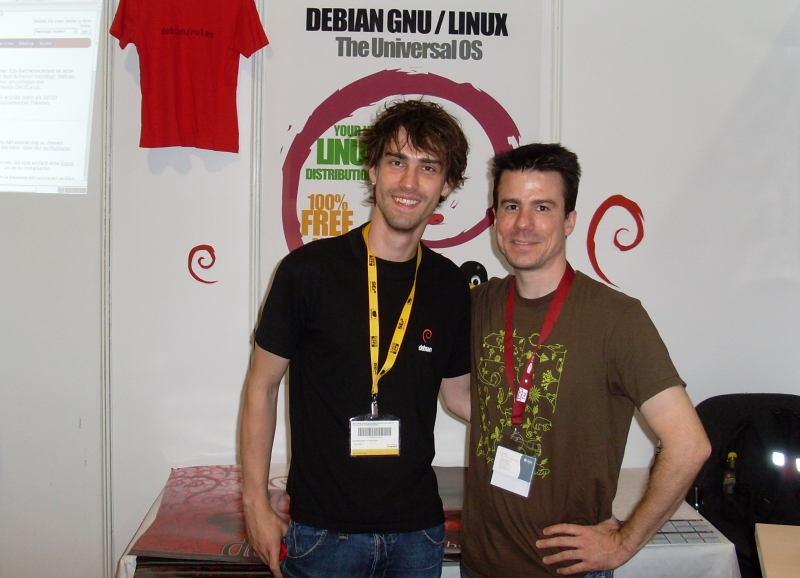 that's right, Ian Murdock himself! I was so nervous to meet him, that I almost forgot to ask for a picture.
Apropos showing up at our booth: although we where fairly good manned at our booth, we felt that a few more helpers wouldn't have hurt. We (the staff from this year's Debian booth) just want to say, that you don't have to be a Debian Developer / Maintainer or whatever to help at our booth. If you're an enthusiastic Debian user and can spare some time, you're very welcome. The tickets for the staff are usually free, so don't hesitate to ask if you can help next year!